Tomorrow, you won't be at the checkout anymore…
One of the main challenges in the retail sector will be in the near future to offer a personalized, autonomous and fluid in-store experience. One of the main concerns of the retail sector has long been queue management, a source of frustration for customers. To combat this overcrowding at checkouts, several players have been looking at ways to make the checkout and in-store experience more fluid. One of the answers is the automated store. The precursor to the implementation of this solution is Amazon, with its Amazon Go concept. But it has also inspired others, to the point where many retailers are now thinking about it.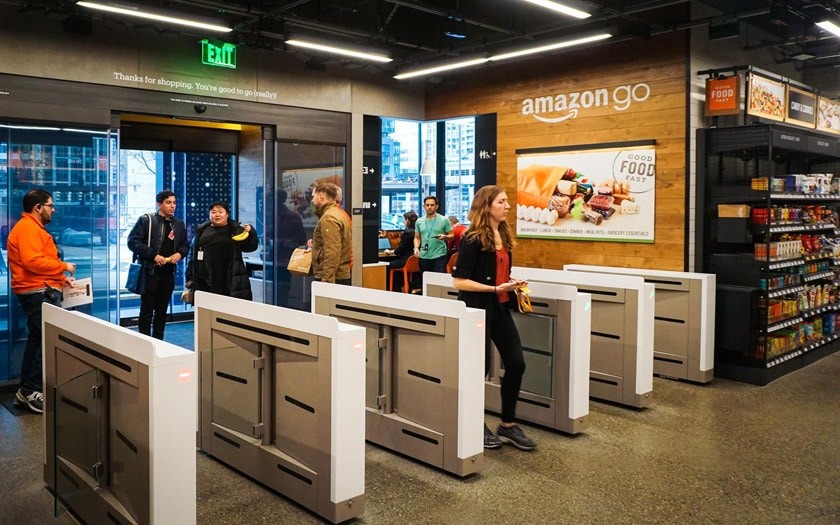 The stakes of a cashless store
The queue is indeed a real factor slowing down the activity of a store. In addition to being painful for the customers, it is also very detrimental to the efficiency of a business. In an era marked by e-commerce and the efficiency of numerous delivery services, the retail sector must think about ways to remain competitive. Consumers around the world are no longer afraid to buy products online, from clothing to food shopping.
How to retain these customers and attract new generations to the store?
It is to this question that the actors of Retail try to answer. The mastodons that are Amazon or Alibaba have democratized online ordering worldwide, especially by being present on the channels that are smartphones and the Internet. These channels are massively used by the new generations, while gradually convincing the older generations. Planning a vacation, renting a car or getting dressed: you can now perform all these actions at home in a few clicks, without having to physically go to each sign.
The stakes are therefore considerable for mass distribution, which sees these major competitors set the standard. The current health situation is accelerating this transition for many consumers who have been "forced" to resort to distance selling, for example. To remain relevant in this digital age, they need to be innovative in order to offer real alternatives to e-commerce.
Amazon took the lead with the opening of the first Amazon Go cashless store in Seattle in early 2018. These stores aim to completely eliminate checkout, just like that!
Amazon Go stores are equipped with special gantries at their entrances. After first downloading the dedicated Amazon application (Amazon Go, quite simply), you will be able to scan the QR code displayed in order to enter the store. Once inside, all you have to do is shop and choose your products. Numerous cameras present throughout the store, as well as other sensors, will be able to identify which product you put in your shopping cart, and thus prepare your shopping cart as you go through the store.
Once you have chosen your products, all you have to do is go through the gantries and you will receive your invoice directly on the application. No checkout, no queuing (at least in theory): the experience in this new type of store is frictionless and fluid. The fact that you scanned the application on the gantry will act as identification, the cameras having spotted the products when you placed them in your shopping cart. It is therefore a completely autonomous shopping experience that is highlighted in these new innovative blinds, which offer a unique in-store experience.
Amazon isn't the only player looking at the future of the in-store experience. Indeed, mass retailing must adapt to remain attractive. Smart Retail is a concept that has emerged as a result, with the desire to combine the advantages of traditional commerce (dialogue with an advisor, direct contact with products) with those of new technologies. The purchasing path in this type of retailer could look like this:
Once you arrive in the store, you can unlock a connected shopping cart with your smartphone (Monoprix, Walmart and Amazon already offer some concepts).
These GPS-equipped shopping carts will guide you through the sign's shelves and inform you of any available promotions.
Arriving in the shelf of your choice, shelves and screens will be available to give you a maximum of information about the product, replacing the principle of labelling.
Once your selection is finished, autonomous checkouts (already present in many stores) will be waiting for you to finish your journey. Even more advanced concepts such as Amazon Go, mentioned earlier, could also be chosen as an option.
This path is just one example, each brand will choose how to organize its future customer paths. Amazon has confirmed the marketing of its "Just walk out" technology in early 2020, allowing third-party distributors to reuse the concept of cashless stores. The world of retail is in any case changing to find ways to remain attractive in a now hybrid world. In a context marked by the explosion of online commerce and a health crisis that is having a major impact on physical retailing, discussions must quickly lead to alternative solutions.